About Hotel Ambelia Village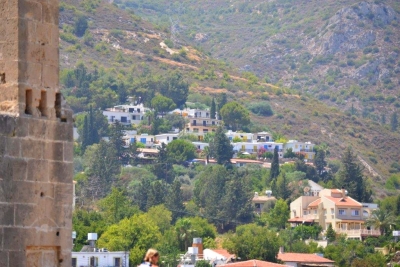 Ambelia Village is a quiet and picturesque hotel and holiday village in Bellapais, nestling in the Five Fingers mountain range in Northern Cyprus. Our holiday complex rests 1000 feet above sea level on a terraced hillside. From every balcony and patio in the village you can enjoy the panoramic view of Bellapais, the northern coastline and the beautiful harbour town of Kyrenia (Girne) that is located just four miles to the west. With the sea in front of you and the mountains as the backdrop, you will feel surrounded by nature.
Ambelia Village is an ideal spot for walkers. A network of hiking paths into the surrounding mountains is literally just one step away. Nature lovers enjoy the springtime when Cyprus becomes a paradise for birdwatchers and there is a profusion of wild flowers including orchids, cyclamen, irises, rock roses and anemones. The members of the management team are keen walkers and are always available to recommend walking routes.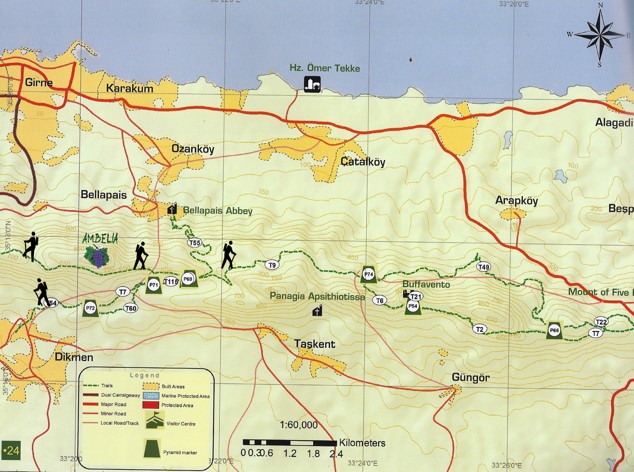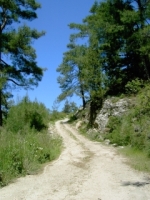 Within five minutes walking distance from Ambelia, you find the historic village of Bellapais (Beylerbeyi). The village became famous through Lawrence Durrel's book "Bitter Lemons".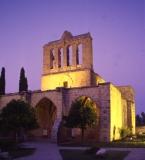 The 13th century gothic abbey of Bellapais serves as one of the most spectacular locations for classical concerts, operas and music festivals. The Monastery offers a unique atmosphere for these cultural events, most of which take place in the spring and autumn.
In between exploring the island's natural beauty and discovering the evidence of 9,000 years of history and culture, why not take a break by our swimming pool. There you can lounge on the terrace, have a refreshing swim, cool down with an icy brandy sour from the bar and allow our restaurant to spoil your taste buds with a snack.
We are proud that our restaurant has a wide reputation and is enjoyed by non-residents as well as by our guests. Our chef caters for any kind of diet and vegetarians will experience a feast of a meal. Throughout the day, snacks and light lunches are available.
In the evening, our kitchen offers traditional Cypriot food as well as international cuisine. Our dishes are freshly prepared using organically grown vegetables from our own garden, which can be visited on request.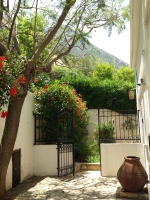 If you have booked half board, you can still select your meal from our à la carte menu at a modest extra charge. The unique location and the facilities of Ambelia Village appeal to many kinds of holidaymakers. However, the steps between terraces may not suit people with disabilities.
Whether you want to explore the countryside or shop in the bustling streets of Kyrenia; whether you want to have fun at the pool or clamber over crusader castles; whether you want to enjoy a quiet and relaxing evening at our restaurant patio or go clubbing downtown.
Ambelia Village is the right place for you





Here at Ambelia Village the team is European, speaking up to six languages fluently.
Our assistant manageress has a nursing background to deal with any minor medical emergencies should they arise.