Hotel Ambelia Village: Bar-Restaurant & Pool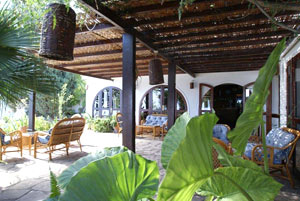 In between exploring the island's natural beauty and discovering the evidence of 9000 years of history and culture why not take a break by our swimming pool? There you can lounge on the terrace, have a refreshing swim and cool down with an icy brandy sour at the hotel bar from where you have a spectacular view of the Mediterranean Sea.
For a small fee non-residents are allowed to use the pool.
In the restaurant you can enjoy Cypriot home cooking. Organically grown vegetables from our own garden infused with herbs and garlic give your taste buds a Cypriot experience of their own.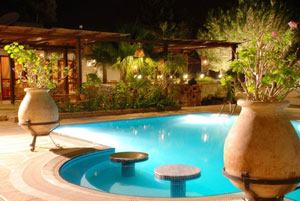 You can enjoy a romantic dinner for two or celebrate a special day with friends and family. We cater for individuals, groups, parties and weddings. No matter if you prefer a 3-course dinner served at the table, a buffet with meze followed kebabs or fish, traditional Cypriot dishes, snacks or finger food, we will make sure that you and your guests enjoy every bite. And for that special day we will decorate the bar and pool area to your liking and play the music that you need to dance the night away.